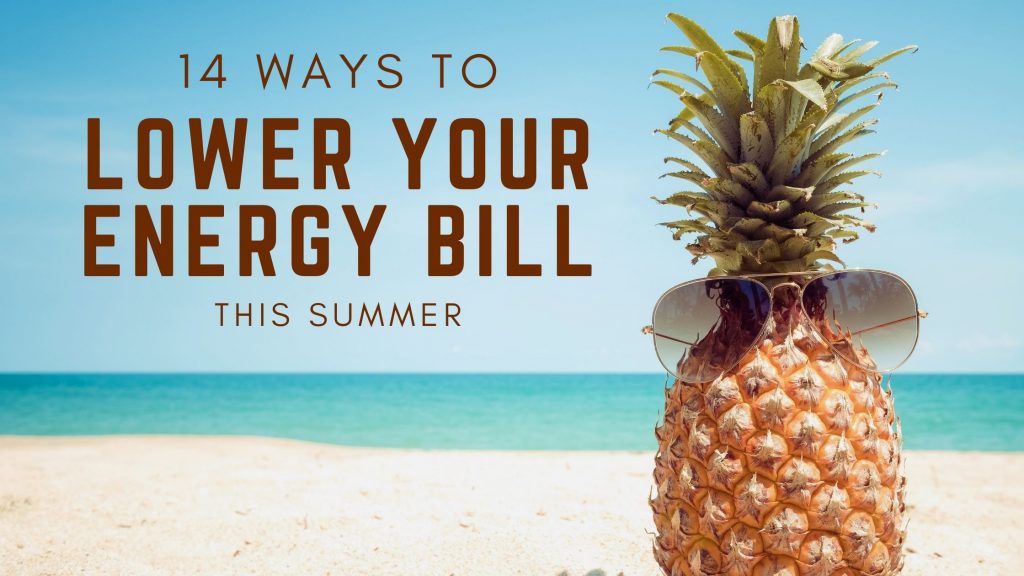 14 Ways to Lower Your Energy Bill This Summer
July and August are the hottest months of the year in South Alabama, and it's likely the warm weather has taken a toll on your wallet. Air conditioning costs tend to be the primary cause of high energy bills according to energy.gov, but you can lower your energy bill and stay comfortable this summer by following these tips!
Lower Your Energy Bill This Summer
1. Change or Clean Your Air Filter
If your energy bills are steadily rising, it's likely time to clean or change your air filters. Dirty air filters put more stress on your comfort system and force the system to work harder to cool your home. During the summer when the weather is hot and humid, air filters tend to become dirty more quickly. Be sure to check your filter monthly during the summer to keep your system running at maximum efficiency. 
2. Adjust the Temperature
One of the more obvious ways to lower your bill is to turn the temperature up. By turning the temperature up just a few degrees, you can significantly reduce your energy bill with just the push of a button. We've found that keeping your thermostat set at 74-75 during summer months can reduce your energy usage enough to see a difference on your energy bills. If you're uncomfortable at that temperature, a programmable thermostat will adjust with your schedule, leaving your house warmer when you're away and cooler when you're home.
3. Program Your Thermostat
If you're uncomfortable raising the temperature a few degrees, a programmable thermostat might be something of interest to you. These thermostats will adjust with your schedule, leaving your house warmer when you're away and cooler when you're home to save you money and keep you comfortable. A professional from Swinson AC can help you pick the best thermostat for your home, your family, and your budget.
If you have a programmable thermostat and are looking for the best tips on setting it for the most efficient outcome, check out our Guide to Controlling Your Programmable Thermostat. 
4. Use Your Fans
Even though ceiling fans don't lower the temperature in your home, they can make it more comfortable with the 'wind-chill effect.' By dispersing cool air around the room, ceiling fans make it feel cooler, even if it's not actually cooler. If you're feeling warm in your home, try turning on the fan before turning down the thermostat to keep energy costs down.
5. Keep Doors Shut
Open doors and windows let cool air escape and warm air enter. This is not good for your comfort or your indoor air quality. Keep doors and windows closed as often as possible in the summer to prevent temperatures in your home from fluctuating and putting more strain on your comfort system.
6. Seal Windows
A window with cracks is almost just as bad as an open window. Keep air from escaping through small openings around windows and doors with proper weather stripping or caulking. Be sure to identify and seal every gap. Even a tiny area can raise energy costs and make cooling your home more difficult. 
7. Close the Curtains
Use blinds or curtains to keep the sun out of your home during the day. When the sun shines through the windows, it can easily heat up your home, forcing your comfort system to work harder and, in turn, raising your energy costs. Curtains work as an excellent insulator between the cold air inside and the warm outside air on those bright, sunshiney days.
8. Upgrade Your Windows
If you can't help but open the blinds and curtains to let the sunshine in, Energy Star rated windows might be a great option for your home. Upgrading to windows with energy-efficient coatings will save you money, put less strain on your air conditioning system, and keep you more comfortable, even when the sunshine is pouring through.
9. Grill Out
Summer is a great time to use the grill. Rather than using your oven or stove, spend more time cooking outside to help keep your kitchen cool. Stoves, ovens, and other kitchen appliances can heat up your whole home, pushing your AC system into overdrive to cool your home back down. If you don't have a grill or would rather cook inside, opt for recipes that use appliances that generate less heat, like crockpots, air fryers, or toaster ovens.
10. Plant Some Trees
Lower your energy bills and increase curb appeal by planting trees outside to help shade your home. Adding environmentally friendly plants around your home naturally helps to keep energy costs down. Choose plants like:
Aloe Vera

Ficus Trees

Snake Plants

Baby Rubber Plants

Golden Pothos
Plants reduce cooling capacity by absorbing the heat from their surroundings and keeping the area cool. Be sure to keep trees and shrubbery at a safe distance from the house. No limbs should touch or hang over your home.
11. Install Solar Panels
Solar panels lower your air conditioning costs by powering your home using the sun's energy. Solar panels can use energy at a fraction of the cost of utility providers. Although this type of change may be more of a lifestyle choice, it could be a great option for your home and your family. It also helps protect the environment!
12. Create a 'Cool Roof'
A cool roof is a great way to lower your energy bills without sacrificing comfort. Cool roofs use reflective material to prevent referred heat from entering your home. 
Contact a local roofing contractor to learn about turning your roof into a cool roof. 
13. Bring in the Professionals
If you have tried all of the energy-saving tips you can muster, and your energy bills are still through the roof, it's time to bring in the professionals. The professionals at Swinson AC can service your system year-round to make sure it is functioning properly and efficiently, even during hot South Alabama summers. We will clean condenser coils, check air filters, and measure cooling efficiency and voltage connections to determine the cause of your rising energy bills in regards to your comfort system.  
14. Upgrade Your Comfort System
Rising energy bills may even be a sign that it's time to upgrade your comfort system. Upgrading to a high-efficiency comfort system can even reduce your energy bills by as much as 60% depending on your current system! While the upfront costs of a new air conditioning system may seem significant, it's an investment that will save you money in the long run. Not only will you lower your energy bills, but with a new system, your home's temperature will also remain more consistent, keeping you more comfortable year-round. 
Learn More
Swinson Air Conditioning has you covered for all of your air conditioning repair, replacement, and service needs. As a locally owned and operated business, we are dedicated to serving our community with fantastic HVAC service and friendly customer service. We proudly serve communities on the Eastern Shore including Loxley, Fairhope, Daphne, Spanish Fort, and the surrounding areas.
We are a Factory Authorized Carrier Dealer. To learn more about our company or the services we offer, visit our website at https://swinsonac.com/. Feel free to call us at (251) 990-0998 with any questions or to schedule an appointment. lower your energy bill lower your energy bill
Proudly Serving The Following Areas