Fall Decorating Ideas for Your Loxley, AL Home
It's time to get into the fall spirit, and we have plenty of decorating ideas for you! There are many areas in your home where small fall touches will go a long way in getting your home and your family ready for the season. Keep reading to see some of our favorite store-bought and DIY fall decorating ideas.
The Mantel
Your home's mantel is a great space to take advantage of for some fall decorations. For something easy, pick up decorative fall candle holders and mini pumpkins from your local craft store. (Even better, grab some fall scented candles to put in the holders! Mmm.. pumpkin spice). To add even more dazzle to your display, gather a variety of autumn leaves to create a garland. Use wire or hot glue to attach them to a length of rope, then use temporary adhesive hooks to mount the garland across your mantel.
Living Room Furniture
It's simple to add some fall touches to the rest of your living room as well. Consider a copper colored throw blanket to drape on your couch or favorite chair. Bonus fall points if it's chunky knit! Additionally, there is an endless supply of festive decorative pillows this time of year. Purchase a couple to accent your furniture and you've got a living room that screams fall!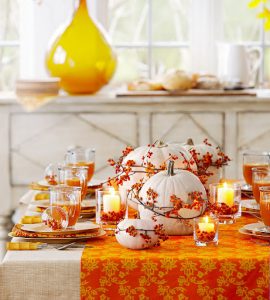 Dining Room
A fall themed centerpiece in your dining room is a fantastic conversational piece. While these can easily be purchased at local stores, consider testing out your DIY skills and making your own! First, line the center of your table with various sizes of white pumpkins. Wrap the pumpkins in faux bittersweet vines and secure them with small pins. Add a couple of clear glass vases and put extra bittersweet berries in the bottom, then add a tea light candle on top. The color contrast of the pumpkins and warm glow from the candles will immerse your guests into fall!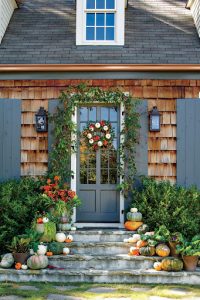 Front Steps
Don't forget about the outside of your house! Add a variety of pumpkins to your front porch decorations. The more sizes and colors, the better. Carve out one of the larger pumpkins and put a mum inside to make a precious fall pot. Don't forget to mix things up and add some gourds as well. Then, you can incorporate the same bittersweet vines from your centerpiece and use them to line your doorframe. Glue or pin some smilax in with the bittersweet to add some greenery fill.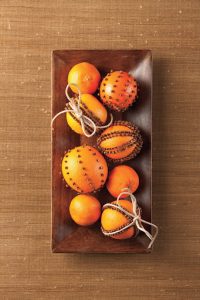 Pomanders
Use a wooden bowl to display oranges studded with whole cloves for a fragrant decoration. Try decorating the oranges in fun patterns with the cloves, and tie a couple oranges with twine bows to add some variety and dimension. Beautiful!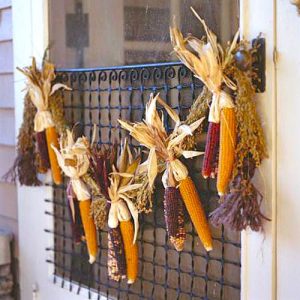 More Door Decorations
Did you know you can use corn to make a unique garland for your door? Take a section of rope and string it across the width of your door. Wrap the rope with broomcorn, dried grasses, corn tassels, and more. Pull back the husks on your corn and tie them to the rope with raffia. 
Keep Your Home Comfortable
Whether you're having guests over, snuggling up on the couch for a movie, or beginning your seasonal baking, you'll want to make sure your home is beautiful AND comfortable this fall! Swinson Air Conditioning proudly services communities on the Eastern Shore including Loxley, Fairhope, Daphne, Spanish Fort, and surrounding areas. We offer same day HVAC repairs which will keep your home's heating and cooling system running smoothly all season long. Learn more about our variety of heating services here.
What Decorations Are You Going To Do?
Let us know! We'd love to see what you try and how you personalize the decorations to your own home. 
To learn more about our company or the services we offer, visit our website at https://swinsonac.com/. Swinson Air Conditioning company is proudly a Carrier Authorized Dealer.
Proudly Serving The Following Areas