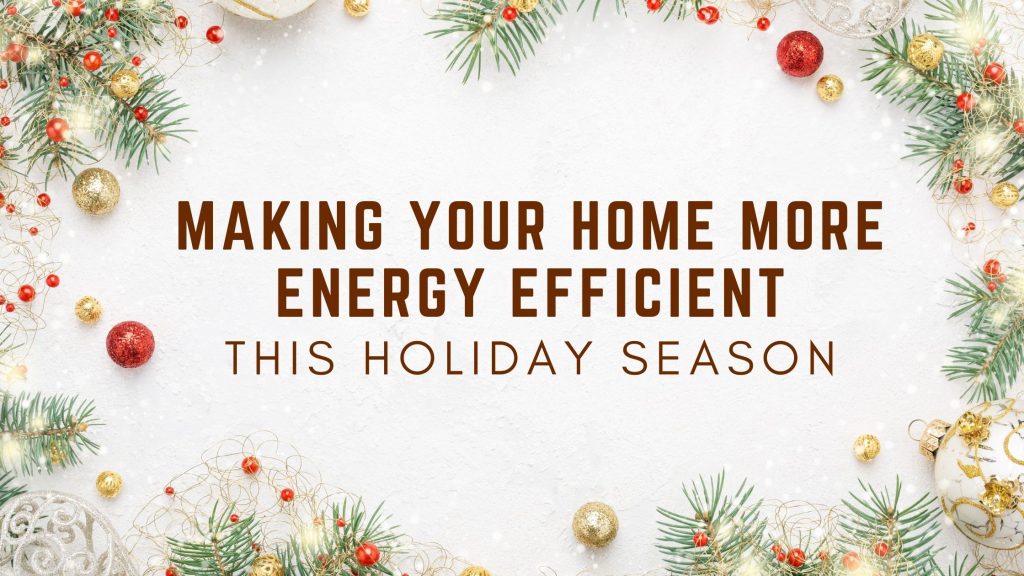 Ways To Make Your Home More Energy Efficient This Holiday Season
Now more than ever, people are staying home for the holidays. That means more lights on, more hot water used, more cooking, and more electronics in use. With all this going on, you may see your energy bills increase, but don't worry! We've got some tips to make your home more energy efficient this holiday season. 
1. Use Natural Heating
During the day, open your curtains to allow sunlight to naturally warm your home. Don't forget to close them at night to prevent the opposite effect of cooling your home when it gets dark outside. Additionally, if you have a lot of guests visiting, turn down your thermostat. Having extra people in your home will naturally heat the space, and you probably won't need your heat set as high to be comfortable. 
2. Switch to LED Lights
Many of us love to decorate our homes with string lights, but traditional string lights are rather energy-inefficient. By switching to LEDs, you can cut the energy you use in this particular area by up to seventy percent. LEDs last longer, burn brighter, and save lots of energy. That's a win-win-win!.
3. Utilize A Timer
Set your lights on a timer to save on your energy bill. Rather than let your lights run all night, have the timer shut the lights off when it gets late and you're no longer in their presence. This saves you time as well; no need to get back out of bed when you remember the lights are still on!
4. Change Your HVAC Filter
Maintaining your HVAC system by regularly changing out your air filters can save you around ten percent in wasted energy costs. Keeping a clean air filter also ensures your system operates properly, allowing more air flow and longer life. Changing your filter will improve your air quality and increase comfort while saving you money in the short and the long run.
5. A Programmable Thermostat
Setting temperatures in your home with a programmable thermostat can help save you a good bit of money on your energy bills as well. You're probably not home all the time to reap the benefits of your heating or cooling system, so why waste that energy? If you're not going in certain rooms or are leaving the house for the day, programmable thermostats allow your system to run on your schedule. Turn down the heat when you're gone to save energy and have it scheduled to be warm again before you even get back home. 
Contact your HVAC professional to discuss getting a SMART thermostat installed.
6. Cook In Batches
Planning on doing a lot of cooking for the holidays? You can save energy by cooking all your big dishes at once. It takes a surprising amount of energy to reheat the oven over and over again. So, put that pie in right after you cook dinner while the oven is already hot! You could also try using the stove or other small appliances to cook with, rather than using the oven. Other methods of cooking don't heat up your home as much, keeping you more comfortable and your HVAC system working less. 
Keep Your Home Comfortable
Your home should still be comfortable while saving money on energy bills. If you have any questions or concerns, reach out to the professionals at Swinson Air Conditioning Co. Swinson Air Conditioning proudly services communities on the Eastern Shore including Loxley, Fairhope, Daphne, Spanish Fort, and surrounding areas in coastal Alabama. We offer same day HVAC repairs which will keep your home's heating and cooling system running smoothly all season long. Learn more about our variety of heating services here.
To learn more about our company or the services we offer, visit our website at https://swinsonac.com/. Swinson Air Conditioning company is proudly a Carrier Authorized Dealer.
Proudly Serving The Following Areas