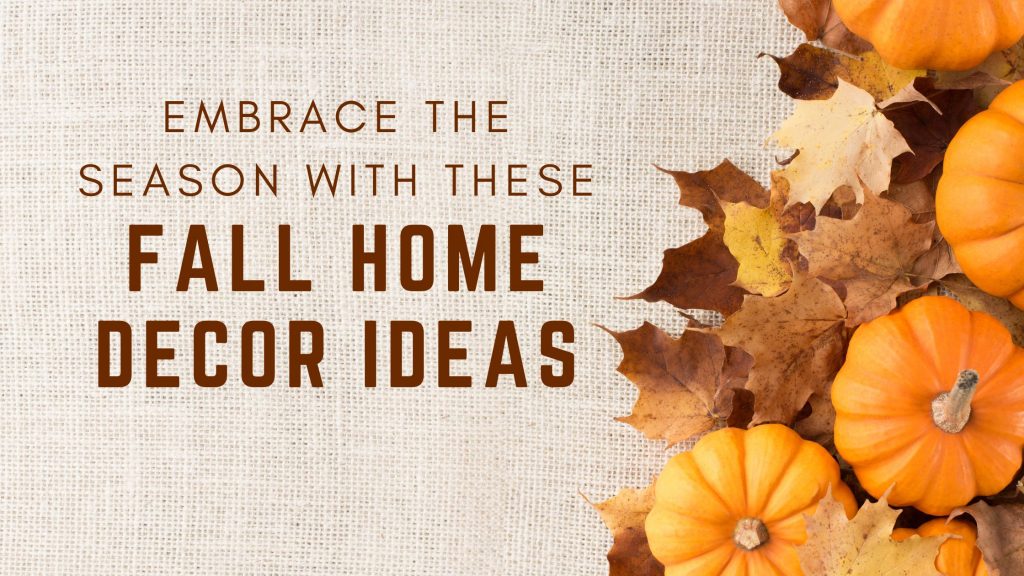 Embrace the Season With These Fall Home Decor Ideas
There's nothing quite like fall! It's one of our favorite seasons of the year…. mostly because we get to break out all of our favorite fall decorations. There are many areas in your home where you can add a touch of fall through your decor choices. View these fall home decor ideas below and start embracing the season in your house!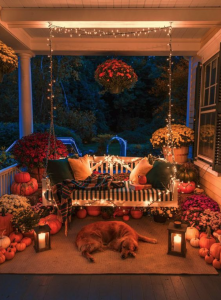 Your Porch & Outdoor Space
Chilly weather doesn't mean you have to abandon your outdoor space! You can transform your porch into a cozy getaway which will be a huge hit with your family and guests. Begin by decorating your space with pumpkins, mums, squash, and other fall foliage. Next, bring out the blankets and pillows! We love flannel print and cable knit textures for fall blankets and pillows. Finally, use twinkle string lights and lanterns to light your porch. As seen in the inspiration photo above, these additions will truly transform your porch.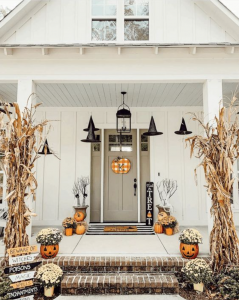 For your yard, we recommend a festive fall sign or more pumpkins! You can never, ever have too many pumpkins! We also love using dried corn stalks to surround your columns on the front of the home or even adding them onto your mailbox to spread the fall cheer throughout your property.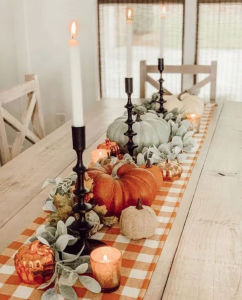 Centerpiece
We love changing our centerpieces with the seasons! You can be as creative as you want with your fall centerpieces. Try using dried corn husks, pumpkins, candles, candle holders, a fall themed runner, and some additional foliage to fill in the gaps. A good centerpiece will transform your dining room and really make your home feel like fall. Centerpieces are also a great way to keep decor to a minimum if you're not looking to go overboard, and keep a classy, elegant feel to your home.
Fall Tree
Is Christmas your favorite holiday? While it's still a bit too early to pull out your Christmas decorations, you can get away with setting up your tree. Transform your tree by decorating it with pinecones, pumpkins, golden string lights, gourds, and other fall items. You can even transform this tree into a Halloween tree as we head later into the season! If you have kids, they will enjoy helping you decorate your fall tree. This is a great activity for the whole family, and a great way to prepare for the holiday season.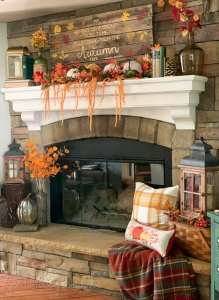 Mantle
Mantles are so often overlooked! Make use of all of the space your mantle has to offer and fill it with fall decor. Fill various sizes of glasses with pinecones and fake leaves, and don't forget the pumpkins and gourds. You can even make a garland with dried corn husks and twine. Your mantle can be incredibly festive! Or, you can keep it simple with a few fall signs, a pumpkin or two, and a candle or some fall foliage.
Schedule Fall Maintenance
While we can't prepare your home for fall, we can prepare your HVAC system! Don't hesitate to contact Swinson Air Conditioning to schedule your fall maintenance visit today. Just visit our website at https://swinsonac.com/ or call us at (251) 990-0998 to learn more about the maintenance plans we have to offer. During our visit, one of our technicians will clean, inspect, and adjust your system to ensure it runs smoothly throughout the change in weather. 
Swinson AC
We proudly provide HVAC services to communities on the Eastern Shore including Loxley, Fairhope, Daphne, Spanish Fort, and surrounding areas in coastal Alabama. Swinson Air Conditioning company is proudly an American Standard Customer Care Dealer.
Proudly Serving The Following Areas