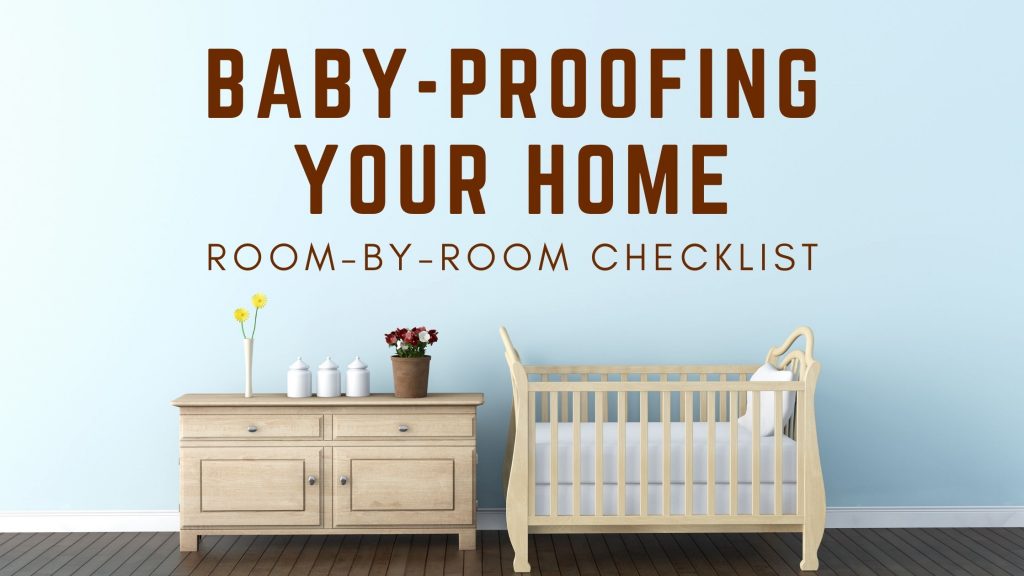 Baby-Proofing Your Home, Room-by-Room Checklist
Whether or not you're planning to have a baby someday, with around 4 million babies born in the United States every year, it's likely you or someone close to you will. Brush up on your knowledge of baby-proofing your home so if you're ever in need, you'll have the knowledge to do so. Go through our guide, room-by-room, to have a baby-safe home in no time!
Regular Maintenance
Before going room-by-room, keep these points in mind as they're the most important and should happen first in every area of your home:
Replace broken windows,

check on all home detectors, 

fix any cracked tiles or ripped carpet, and 

replace any broken door locks. 
All these preparations should be done before the baby arrives to help keep him or her safe while in your home.
Kitchen
If you're like most, you spend a lot of your time at home in the kitchen. When you have a baby in your life, this will likely become even more true. Don't stress about the baby getting into things they're not supposed to in the kitchen! Just follow these tips:
Purchase child-proof cabinet locks and keep things off the floor. 

Consider knob covers for the stove if they're accessible when the baby begins standing.

Get an oven lock so your child doesn't get hurt when they're curious as to why the oven is turned on.

When loading and unloading your dishwasher, let the baby pass time in a play-pen or with another family member or friend. This way they won't get hurt trying to climb onto the door or grab silverware.

Get corner-covers for tables and cabinets so the baby doesn't bump his/her head when walking around.
It's also important in the kitchen that you never leave cooking food unattended. This could lead to a number of dangerous situations. 
Living Room
In the living room, furniture is the biggest danger to babies. Follow these simple tips for baby-proofing your living room:
Cover any sharp edges such as the fireplace base, tables, or the tv stand with corner-covers. 

Make sure your TV is firmly placed on a flat surface or mounted on the wall so it won't fall over. 

When thinking about furniture, if you haven't bought any yet, you'll want to get some with durable fabric made for everyday wear and tear. 

You should also replace shaky furniture that's likely to fall apart.

Curtains should be tied back so the baby can't pull them or the curtain rod down. Also, make sure curtains are picked up off the ground. 

If you have floor or low wall air vents, it's good to cover those with plastic or mesh vent covers. If you can, have the corners of these covered as well to prevent injury to crawling babies.

Ensure all electrical outlets are covered. Kids are curious and love to stick their fingers in places they don't belong. 
Bathroom
Bathrooms oftentimes contain cleaning supplies, makeup, toiletries, and medication. Because of this, the bathroom may need some extra attention during the baby proofing process. 
Keep all medications, cleaning supplies, toiletries, and cosmetics well out of reach or in locked cabinets if possible. 

Cabinets should be protected by child-proof cabinet locks so the baby can't open them. 

Make sure to keep the toilet seat closed and locked as well, as babies could smash their fingers or worse. 

Keep the shower curtain inside the tub or pulled back so the baby can't pull down the curtain or the shower rod. 

Keep trash out of reach of curious hands.
Nursery
In the nursery, functionality is key. Keep these tips in mind when setting up and decorating your nursery so you don't have to back-track. 
There doesn't need to be any unnecessary decoration on low shelving or countertops,

Try to keep any wall decor to a minimum, especially around the crib. 

If the crib rocks, ensure there is a locking mechanism to keep the baby from falling if they stand up while you're not in the room. 

Keep clothes and toys put away in the closet when they're not being used, and close the door. 

Make sure you keep an eye on babies playing with toys to lessen risk of choking or injury. For a baby, make sure toys are age-appropriate. 

Keep a night light in the nursery for the comfort of your baby and functionality of the space. You'll be going in there at night a lot!
It's also important to keep the nursery at optimal temperatures, so many parents opt for a zoned HVAC system or choose to install a mini split system in the room. These systems allow for ultimate comfort control in a specific area of your home. Babies sleep at slightly warmer temperatures and need proper humidity and ventilation. Contact Swinson AC today to discuss outfitting your nursery with a great comfort system.
Other Rooms
Taking time to focus on every room of your home is important when a baby is coming. 
For the laundry room and garage, make sure the door is kept closed basically at all times. If you're in the space, put the child somewhere safe where they cannot get into the laundry room or garage. 

For any rooms that are off limits that don't have doors, such as the formal living room or even the stairs, place a safety gate to keep the baby out. 

Regularly clean all floors to make sure there is nothing they can pick up and eat that they shouldn't. 

Lock any cabinets containing dangerous chemicals. 

Store batteries in a safe place.

Keep cosmetics and shampoos out of reach as all these things could be poisonous to children. 
Another great tip for keeping your baby healthy in your home is investing in an air purification system. It doesn't matter how clean your home is if it has poor indoor air quality levels. Systems such as the REME HALO In-Duct Air Purifier operate silently while simultaneously eliminating 99% of the bacteria and viruses lurking within your home. Provide your baby with the cleanest indoor air by having an air purification system installed in your home today.
Contact Us
Swinson Air Conditioning proudly provides HVAC and air purification services to communities on the Eastern Shore including Loxley, Fairhope, Daphne, Spanish Fort, and surrounding areas in coastal Alabama. Give us a call to help pick out the system which will best suit your family's needs. 
To learn more about our company or the services we offer, visit our website at https://swinsonac.com/ or call us at (251) 990-0998. Swinson Air Conditioning company is proudly an American Standard Customer Care Dealer.
Proudly Serving The Following Areas