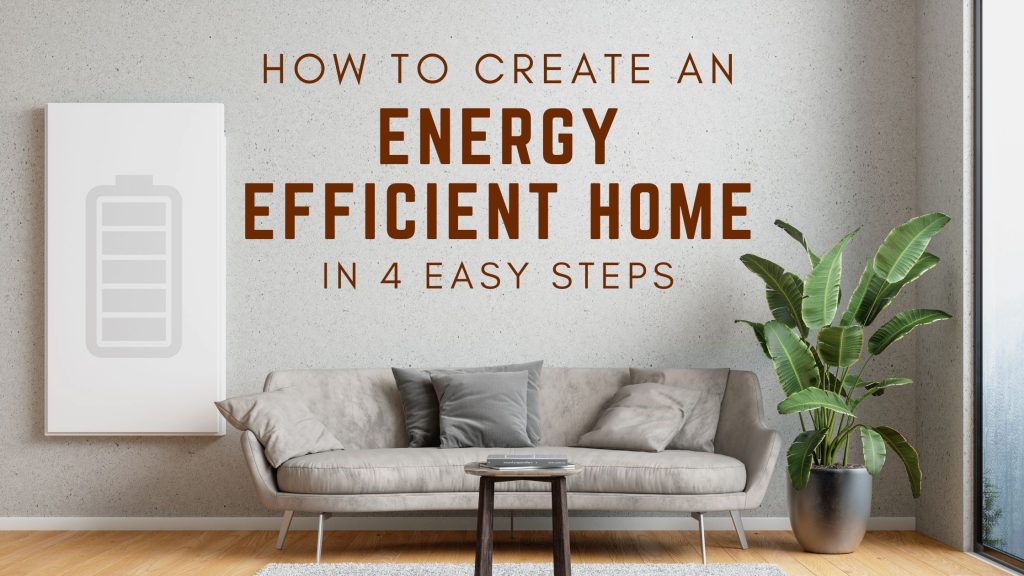 How to Create An Energy Efficient Home In 4 Easy Steps
Have you thought about making some energy efficient changes around your home? Energy efficient homes have many positive effects on the environment, on your comfort, and on your wallet! That's why so many are deciding to make the transition! We're all experiencing energy prices continuing to rise, and reducing environmental footprints is becoming a major focus. Use the following tips to create an energy efficient home, and start working toward a more positive impact on the world around you. 
Lighting
There are many changes, big and small, you can make to improve your home's energy efficiency through your lighting. For a simple improvement, make the most of natural light during the day. Open blinds and curtains to allow the sun to shine inside. Use this natural light to avoid turning on any overhead lights when not needed. For a more involved upgrade, switch out all your lightbulbs for LED bulbs. Research shows lighting accounts for approximately 15% of the average home's electricity use. Switching from incandescent bulbs to energy efficient LED lighting is a quick and fairly easy way to make a reduction in your energy bills. These bulbs also last longer so you'll save money in the long run.
Habits
There are many small, energy wasting habits we have that most of us don't even realize! Such habits may include constantly opening your oven while baking. It's hard not to peek and check in on how your rolls are rising or how your casserole is browning, but it's a huge waste of energy! Each time you open the oven, a large amount of hot air seeps out leaving your oven repeatedly using more energy to heat back up. Not to mention, these temperature fluctuations can impact the comfort levels of your home as well, causing your HVAC system to work harder to cool your home back down. 
Another common habit which wastes energy is washing laundry in hot water. A majority of clothing wash fine on a warm temperature, or even better in cold wash. Cutting back on hot water washes is a great way to save on energy, and subsequently reduce your environmental footprint. This goes for showering as well. Use cold water as often as possible to start making an impact on your energy usage.
HVAC
This is our area of expertise! There are so many ways you can improve your HVAC setup in order to obtain massive savings on your energy bills. The best way to save over time is by having a high-efficiency HVAC system installed. The American Standard AccuComfort Platinum series offers the highest energy savings through the use of variable speed technology. These systems are Energy Star approved, and have saved owners an average of 20% per year when cooling. However, depending on your current system, it could save you up to 60%!
If you're not quite ready to invest in a new system, consider upgrading to a programmable thermostat. These devices are small but mighty! Your thermostat will be controllable from your smartphone, and will automatically adjust the temperature to your heating and cooling schedule. With this control, your HVAC system won't be heating or cooling excessively when nobody is home to enjoy the comfortable air. Make the switch today by contacting Swinson AC! 
Insulation
If your home is lacking proper insulation, you could be losing a large amount of your comfortable indoor air. This results in your HVAC system working overtime to replace the air which is seeping outside, or subsequently condition the hot air entering your home. Consider installing double-pane windows, insulated exterior doors, and adding additional insulation to your attic. You should also walk around your home and inspect for any cracks or gaps around your doors and window frames. These small openings can allow a large amount of air to seep in and out of your home! Simply use caulk or weatherstripping to seal around these entry points and you should notice a difference. 
Get In Touch
To increase your HVAC system's energy efficiency, give Swinson Air Conditioning a call. We're here to help you save money and energy for years to come. Swinson Air Conditioning company is proudly an American Standard Customer Care Dealer, providing HVAC services to communities Eastern Shore including Loxley, Fairhope, Daphne, Spanish Fort, and surrounding areas in coastal Alabama.
Proudly Serving The Following Areas