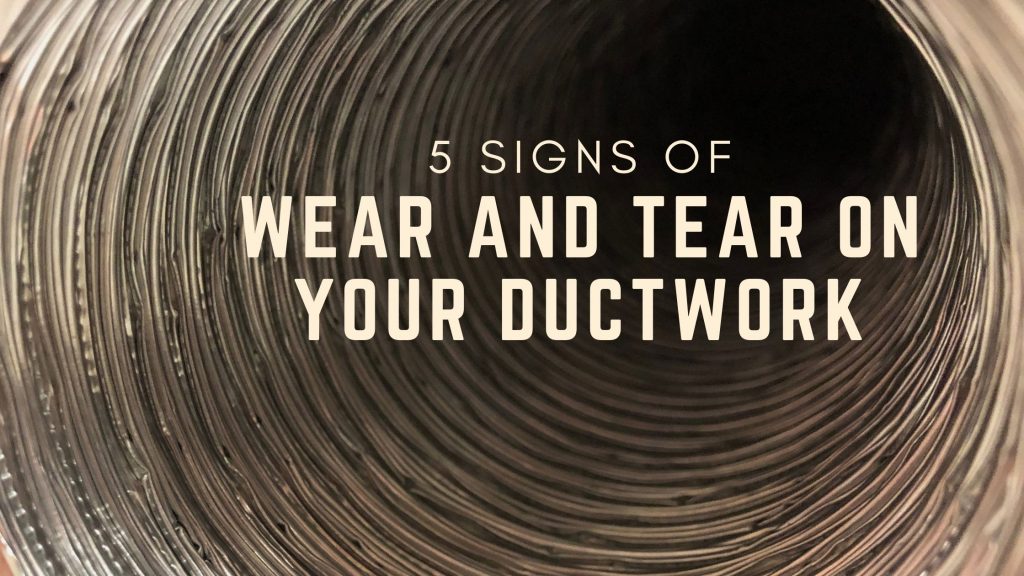 5 Signs of Wear and Tear On Your Ductwork
If you're having issues with the comfort and air quality in your home, you're most likely looking to the HVAC system as the root cause of the problem. However, what you're probably not considering, is that the issue could be coming from leaky, dirty, or damaged ductwork. Overtime, just like with anything else, your ductwork goes through a lot. Be on the lookout for these signs of wear and tear on your air ducts, as it might be time for replacement, repair, or a good cleaning!
1. Visible Damage
If you've never taken a peek at the ductwork in your home, go ahead and do it now! You won't be able to see all of it, but just by looking at the ductwork connected to the main system, you'll be able to tell if it was installed well. Ensure there are no open spaces between the ductwork and the HVAC system, and ensure all ductwork is connected to something – there should be NO loose ends. If you think they're may be issues farther back where you can't see, call the professionals at Swinson AC. Our technicians are trained to inspect your ductwork and provide the necessary repairs to make your home comfortable again. We're also specialized in maintaining ductwork so it stays clean and properly functioning for the life of your home. 
2. Dust Buildup
If there is a leak in your ductwork, you could be experiencing higher levels of dust buildup in your home. This is because dust, dirt, and other allergens are entering your HVAC system past the air filter, so there's nothing stopping these contaminants from entering your home. This will also cause an excessive amount of dust buildup inside your ductwork, affecting your air quality for years to come if proper cleaning is not done.
3. Strange Odors
With high amounts of dust buildup in your ductwork, you could also begin noticing strange or musty odors. When you begin to smell odors coming from your air vents, call the professionals at Swinson AC right away. Dust buildup is unsanitary for your home, but it can also lead to mold growth within the ductwork. Mold growth has the potential for negatively affecting everyone in the home, especially those who suffer from allergies or respiratory problems. 
4. Poor Airflow
If you're experiencing poor air flow, it could be due to damaged or leaking ductwork. These problem-spots may have developed over time, or could be due to improper installation. Either way, it's going to cause improper heating and cooling of your home due to poor air flow. If your home is uncomfortable, reach up to your air vents to feel the air flow. If there's little to no air coming out of your air vents, you may want to have your ductwork inspected. Poor air flow will cause your system to work harder which will raise your energy bills and could lead to a premature system breakdown.
5. High Energy Bills
Speaking of high energy bills, poor air flow is not the only issue that's going to cause this. In fact, any of the issues above will cause your energy bills to rise and your home to be more uncomfortable or unhealthy. If you've noticed a steady rise in your energy bills over time, have your ductwork inspected by the professionals at Swinson AC. 
Duct & Coil Cleaning from Swinson AC
On top of repairing or replacing your ductwork, Swinson AC also offers duct cleaning services. Determined to bring our community the cleanest air possible, we invented a machine that cleans your HVAC coil with ease, and we're the only company that offers it. While tremendously effective, it's also one of the most efficient methods of coil cleaning available.
Learn More
To learn more about professional duct cleaning services from Swinson Air Conditioning, visit our website at https://swinsonac.com/home-performance/duct-cleaning/ or read our helpful article "Duct Cleaning Process for Residents of Alabama's Eastern Shore." 
Swinson Air Conditioning company is proudly an American Standard Customer Care Dealer, providing HVAC services to communities Eastern Shore including Loxley, Fairhope, Daphne, Spanish Fort, and surrounding areas in coastal Alabama. wear and tear on your ductwork wear and tear on your ductwork wear and tear on your ductwork 
Proudly Serving The Following Areas